Vango Diablo 900 blue 9 berth large tent with 3 bedrooms, ground sheet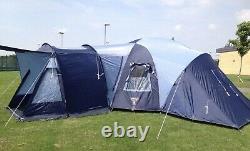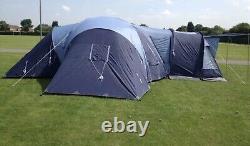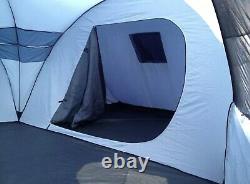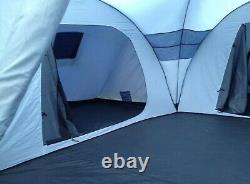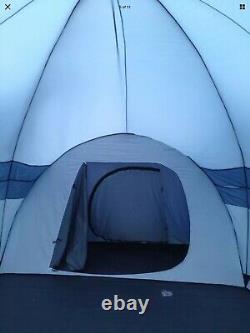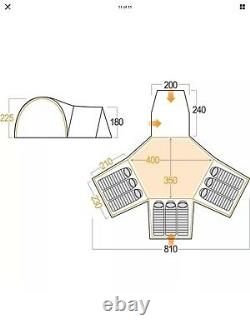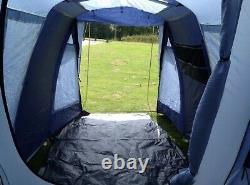 Vango Diablo 900 blue 9 berth large tent with 3 bedrooms, ground sheet. Large 9 berth tent with 3 bedrooms only used about 5 times. Last used September 2018 in Cornwall. It had no damp and was aired before being packed away.
It has been stored in the original Vango bags in a cupboard in my house. Its spacious, with a large main living area which you can stand upright in, will fit camp table and chairs in. It has a ring for hanging a lantern and a ground sheet. It has windows in the living area. Three separate bedrooms which can sleep up to three people or four children in.
They will easily fit a double inflatable bed or three singles plus bags. There is a back door in the middle bedroom, weve only ever used this to allow air to circulate when hot. There is a large porch area (groundsheet included), which can be used for storage, shoes or as a kitchen. To pitch the tent, the inner is erected first, the poles are colour coded, as are the sleeves that you push the poles through.
The poles and pegs are stored in one bag, the canopies are stored in the larger Vango bag. 37 Reviews of the Diablo 900.
Showing 0 1 to 10 Page: 1 2. Lots of space in the pods.
The center part is an ideal space to eat and play ges with a large family. The hook in the center lights up the whole area. It does take 2 adults to put it up but as we camp for 2 weeks at a time it is worth the effort.
It will be a shame when we have to replace the tent as I can't find anything as good. 0 from 0 people found this review helpful, was it helpful to you? The pole system is well thought out and the tent was relatively straightforward to pitch, except I'm 5ft so my other half needed help from someone else tall to get the outer over the top!
It is incredibly spacious, kept us warm and dry on our first nights stay and looking forward to our next stay. Taking it down as newbie campers was a little harder and packing the tent into a small bag was hard with a hangover, but my patient other half managed it ok! The tent is incredibly spacious plenty of room for me and four young ladies and their home comforts. Found it easy to put up and it survived a few torrential downpours over the course of the weekend.
Looking forward to using it again and again. Used it 4/5 times now and amazed at how spacious it is. We go away with my sister and her kids so 4 adults and 3 kids.
And the middle area we call our living room its that big. When it rains we actually put a table in there with 6- 7 chairs to play games ect on an evening and there still room to move about. Very easy to put up now we have mastered it. Decent sized porch area too.
We have had smaller tents but end up been on different pitches ect, upgraded to this one a few years ago and now all the family are together. Upgraded our Vango Icarus 500 to the Diablo 900 for the extra room and boy, it should be called the Tardis! The extra space was brilliant especially in the rain when the family could just chill inside.
After a practice pitch before we left expect to pitch up in around 45-60mins for 2 adults. Can't understand why they've discontinued this model; ours was a once used 2nd hand one. Loved the size of the porch with the choice of entrances. Really warm with the carpet as an extra. Fellow campers couldn't believe the size inside especially on tents they brought that cost loads more.
Won't need to upgrade or, change tents for years now as this one. There are many reviews on here about this tent so I wont go over the same ground.
However they are heavy and metal poles are not as flexible as fibreglass, so have had some issues with broken poles in bad weather. Vango for some unknown reason have changed the design to a different style, why I don't know, if it ain't broke then don't try and fix it as they say.
Will be very reluctant to sell ours when we are to old, because there are no tents out there in our opinion that will stand up to the terrible unpredictable British weather like the Vango 900 series does, you would be hard pressed to beat this tent as an overall package. We bought this tent due to the sewn in ground sheet. There were very few available at the time, especially at the price we could afford. It is a very large tent and the porch is a very useful addition - especially in poor weather. We have used this tent for short weekend breaks and much longer family holidays.
It is very good when the weather is good and you are able to eat outside. However, in heavy weather, we had a constant worry about leaking - especially if anybody leans against the walls. We have always struggled to get it pitched correctly and would strongly recommend the footprint. We have enjoyed using this tent. However, as our last trip was in persistent rain, [especially when pitching and taking down], we are now looking for another tent.
We bought it with the foot print and carpet and have found these to make it very homely / feeling of warmth. The only negative is the pure size means it takes a while to put up and the crafty site owners since recession sell a larger plot to accommodate it! We've used the Diablo twice now, both over long bank holiday weekends in May 2011. The weather couldn't have been more diverse.
At Easter, we camped at Snowdonia Park where they have a micro-brewery. And the weather was scorching. As the Diablo has a rear door (in the bedroom) we could get a good breeze flowing through to cool us down.
Late spring B/H we camped at Ty'n Rhos on Anglesey. We had howling gales whilst pitching and for the next 3 nights.
The tent stood up to the weather really well, no problems other than a couple of guy ropes needing re-pegging. We even left our extended porch up, although each morning we expected it to have been blown over the fields. Didn't get too much rain, but the tent stayed snug and warm anyhow. SIGs main advantage over the Wynnster (we sometimes got water blown in at ground level during heavy rain).
I can't recommend this tent highly enough. Can't understand why Vango discontinued it??? We're off to Devon for 7 nights in the Diablo next week and can't wait.
My only reservation is (as others have mentioned) the pitch-size required makes some sites nervous when booking. We always ensure that the site is committing to our large tent size before we travel: so far not had any problems. I had a Diablo 600 then upgraded to the 900XL.
45 minutes to put up with 2 people. By the time you adjust the lines and straps etc. It takes about an hour to get it right. We have the carpet and footprint which makes the inside comfy and the footprint helps you to position the tent before you put it up.
It has a fully sewn in bathtub ground sheet, so no drafts, bugs etc. We also have the porch extension which is great to sit under without getting too cold or wet if it is a bit damp! In 2010 we had bad weather in Dorset. It rained and blew a gale.
The tent stood firm and was totally dry and warm. Having the XP (xtra poles) means you get the extra head height in the bedrooms.
The living dome is approx 4metres in diameter. The bedrooms are approx 2metres square x 2metres high. The height at the top of the living dome is approx 2.4 metres. The only downside (if you can call it) is that you have to make sure that the pitches are big enough to take it.
We have never found it a problem. This is a fab tent and love it.
The item "Vango Diablo 900 blue 9 berth large tent with 3 bedrooms, ground sheet" is in sale since Friday, January 8, 2021. This item is in the category "Sporting Goods\Camping & Hiking\Tents & Canopies\Tents".
The seller is "matthewpp98" and is located in solihull, West Midlands. This item can't be shipped, the buyer must pick up the item.
Size: XL
Style: Dome
Main Colour: Blue
Berth: 9 Person
Brand: Vango
Sleeping Areas: 3